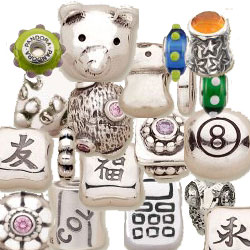 Welcome to RetiredCharms.com.au
(formerly known as RetiredPandora.com.au)



Pandora jewelry regularly retire beads to make way for new releases of their beads.


You'll have plenty of chances of finding that special bead that you have searched for here at RetiredCharms.com.au.


If you want the Chinese symbols for Love, Happiness and Friendship, They are here.
The glass beads with the bumps on them.
The Ram, Rhino and other animals.
The beads with coloured stones.
They are all here now.


Buy Now To Complete Your Collection:

All of these beads and jewellery items have been retired by Pandora and are no longer being manufactured.
They are only available on this website while stocks last.
Don't leave it too long as we can run out at any time and there are no more available.
* We Deliver to Australian addresses only.